Urgent Funding Needed for Flood Victims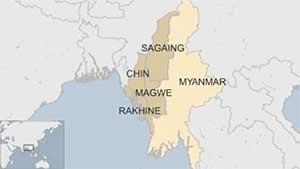 Since the beginning of the month, unusually heavy monsoon rains have affected 330,000 people, causing landslides and flooding in four major regions of western Myanmar. 74 people are confirmed dead, though the true number will be higher as several areas are currently cut off.
While there has been a request for emergency aid from international donors, Partners Asia's grantees on the ground in these areas started reaching people immediately. And they need your support.
Kaung Nyunt, Partners Asia's Programs Director in Myanmar, was preparing for a site visit to partners in Sagaing region last week with education grants manager Kyaw Zin Win.
In his spare time, Kaung Nyunt runs a small volunteer organization called Joining Hands that has been assisting monastery schools since 2008. By the time they were due to leave Yangon Kaung Nyunt and Kyaw Zin Win heard news of the floods so they mobilized their networks to raise money to take with them. Through this organization, he personally raised over $4,000 from friends and family that he was able to distribute immediately through our grantees in Sagaing and Magwe. His sister is visiting areas in the Irrawaddy delta this weekend to deliver more.
The funds our staff have been able to raise from their own pockets and those of friends once again shows just how generous the people of Myanmar are.2 Only the US comes close to Myanmar in their generosity to help strangers.
Partners Asia hopes to show the people of Myanmar that their suffering has not gone unnoticed, and that our US family of donors can help too.
Partners Asia's committed staff in Yangon will ensure that the funds go directly to groups we know well who live and work in these areas. They are groups we have worked with for many years.
Every dollar donated will be used to buy gas for the motorbikes that volunteers will use to take rice and fresh water to the affected areas; to provide transportation for those in low level areas who must move out until the floods subside; and to provide food for hundreds of families taking shelter in monasteries and churches in Chin State, Sagaing and Magwe Regions and Rakhine State.
Our close friend Snow, at Meikswe Myanmar, has also requested urgent funds for Rakhine State. Communities on the Chin/Rakhine State border where Meikswe has supported health and education training for pre-schools are particularly affected.
Please help.
Partners Asia
Zunetta Herbert, Senior Advisor
Map showing the worst affected areas – courtesy BBC News Asia