The Strength of Loving Care
Lives change at Palae Metta, a safe and loving home near Yangon for women and children living with HIV/AIDs. You can feel the trust, see the smiles and experience the resilience when you visit. When we were there in February children were learning and playing – and so confident. A new Beauty Salon will be constructed in 2019, which will provide invaluable vocational skills and income for women and will be open to children in residence and in the community.
In 2018, 35 patients were living and receiving medical care at Palae Metta. Partnering with government hospitals during the year, eight patients were approved for treatment in their own townships close to home – reunited with their families and communities. The remaining 26 children – 17 girls and 9 boys – plus one woman and one man receive loving care and treatment, growing stronger and more resilient together.
The children are thriving and visit the local clinic regularly for treatment and assessment. They are able to join trainings and counseling focused on antiretroviral (ART) treatment and health – both physical and mental. Caretakers help children be responsible for taking their own medication on time to stay strong; and teach them to become kinder, more respectful of one another.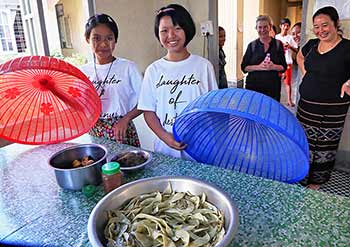 After much thought this year, some new People Living with HIV/AIDS (PLHA) acceptance guidelines were put in place: prioritizing help for those suffering from religious persecution, allowing couples and/or men in residence, and in some cases allowing siblings to join patients at Palae Metta. All these adjustments support the stability, and mental and physical wellbeing of patients.
Children are attending school and those too young help with gardening and chores while being treated, and eagerly await their turn to be students. Staff participate in capacity building trainings and academic lessons throughout the year and the five dedicated volunteers help with social enterprises and gatherings: singing and violin lessons, gardening – both vegetables and flowers – handicrafts, crystal jewelry production, soap making, and animal husbandry are just a few.
Activities which developed life skills and generated profits of $365 USD to benefit Palae Metta last year: mushroom plantation, sewing, handicrafts, production of fish paste, honey, soap oil, face soap, balm, turmeric, and menthol oil.
They all take field trips together, attend festivals, some residents even go home for a short holiday. All of this is made possible through the dedication of the Barnett family who have supported Palae Metta since its inception. From Palae Metta's very beginning: love, safety, and necessary medical treatment combine to create wellness, happiness and resilience for so many who suffer from profound discrimination and HIV/AIDS.